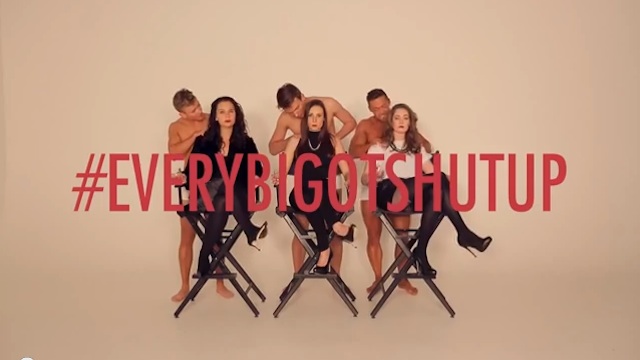 Those are the first lines of the hilarious feminist parody video to Robin Thicke's summer jam, Blurred Lines. The parody is called

Defined Lines

and is performed by Auckland Law students in New Zealand.
Thicke's song received a lot of backlash this summer for celebrating the blurred lines between rape and consensual sex that are often present with alcohol. The video is what received the most backlash, for the unrated version contains naked women that are prancing around the screen while being ignored by Thicke, Pharrell, and T.I. The lyrics are also pretty sexist, for the most repeated line is "I know you want it."
The ladies at Auckland Law School decided to take their own spin at the song and switch gender roles. The video's creators, Olivia Lubbock, Zoe Ellwood and Adelaide Dunn, who call themselves the Law Revue girls, are all fully dressed while accompanied by three men in their underwear wearing dog leashes around their necks. In the video, the men get whipped cream squirted in their faces and dollar bills stuffed into their underwear. Despite this equally explicit video, the lyrics fight the misogyny.
"So we can fuck this man's world
These lyrics criticize the "man's world" that is the media as well as commend women who are smart and scholastic.
The video is hilarious and has received a lot of praise from feminist sites as well as news sites, despite the fact that the video was removed from YouTube for being deemed inappropriate However, the "clean" version of

Blurred Lines

(in which the women are scantily clad instead of topless) still graces the pages of YouTube. This fact presents a clear double standard that is all too common in our society.
I hope that R&B artists learn something from this parody because us women are sick and tired of misogynistic lyrics and music videos. As the last lyrics of the parody read, "Yeah we don't want it. It's chauvinistic. You're such a bigot!"
Check out the video here:
Another great parody of "Blurred Lines," called "Blurred Lines and Naughty Cats and Dogs."
~ Corinne