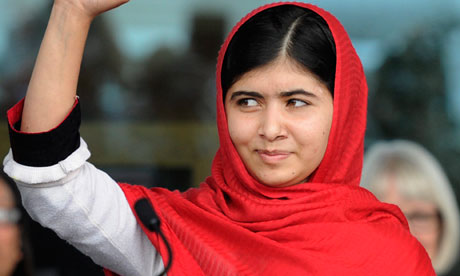 Two days ago, this year's Nobel Peace Prize winner was announced. Malala Yousafzai, the Pakistani teen activist who made headlines last year when she was shot in the head by the Taliban, lost the prize to The Organisation for the Prohibition of Chemical Weapons (OPCW). Even through she lost, the fact that she was nominated gives great hope to women and girls worldwide. At age 16, she would have been the youngest recipient of any Nobel Prize.
Since age 11, Malala has risked her life fighting against the brutal Taliban. She is also a strong activist for women's rights, working hard to fight for a girl's right to education.
Malala was an international favorite for the prize, but just because she lost this year does not mean she has lost forever. Malala is an inspiration not only for girls and women, but for people of all genders worldwide. I would not be surprised if she gets nominated again in the near future and wins.
Check out this amazing interview with Malala on The Daily Show this past Tuesday.
Congratulations on your nomination, Malala!